Weltecke´s alkaline organic granulate: New sizes available!
Published on 12.07.2016
The nutritional multi-talent from nature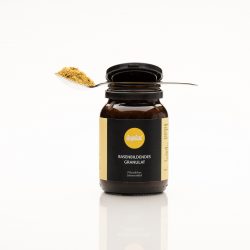 To heighten the alkaline proportion, Weltecke resorts to nature. The minerals, trace elements, vitamins, enzymes, and secondary plant substances bound in plant-form are optimally absorbed by the organism.
Weltecke´s granulate is an alkalinizing special food and compensates for deficiencies which are mainly cause by an acidifying diet.
Alkalinizing granulate
• is a tasty delicacy
• promotes the regulation of the acid-base balance
• is highly bioavailable
• without preservatives like food coloring or aromas
• without binders and emulsifiers
The alkalinizing granulate is a delicacy. All the ingredients are from controlled organic cultivation and are now also available in the sizes 330 grams and 660 grams.